EDIT MAIN
A school managed Apple ID will be provided giving students 250GB of backup space. You may use this Apple ID or your own. When leaving the district you can change your apple ID so that any information or downloaded apps will go with you.
Go to My Apple ID and Manage your account
Manage your Apple ID

Edit your Primary Email Address.
Remember to Save Changes.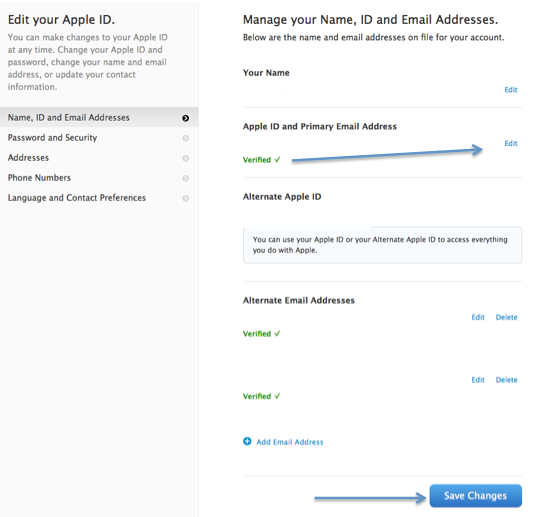 You will receive an email to your new address to verify that it is your email and valid.
Once you click on the Verify email, that's it. You will now use that email for your Apple ID and most importantly, your data, purchased apps, everything you did with the previous email Apple ID stays with you.
Note: You can always change your Apple ID anytime. If you are using the same device at the time of changing your Apple ID, minor changes need to set for iCloud and the Apple Store on your device to reflect that change in your Apple ID.
Edit primary email
Note: You cannot combine two Apple ID's. You can run several Apple ID's on one iPad. So, if you have purchased apps from two Apple ID's and you want to change the Apple ID on one or both accounts, you would have to edit them to separate new emails to keep both accounts.