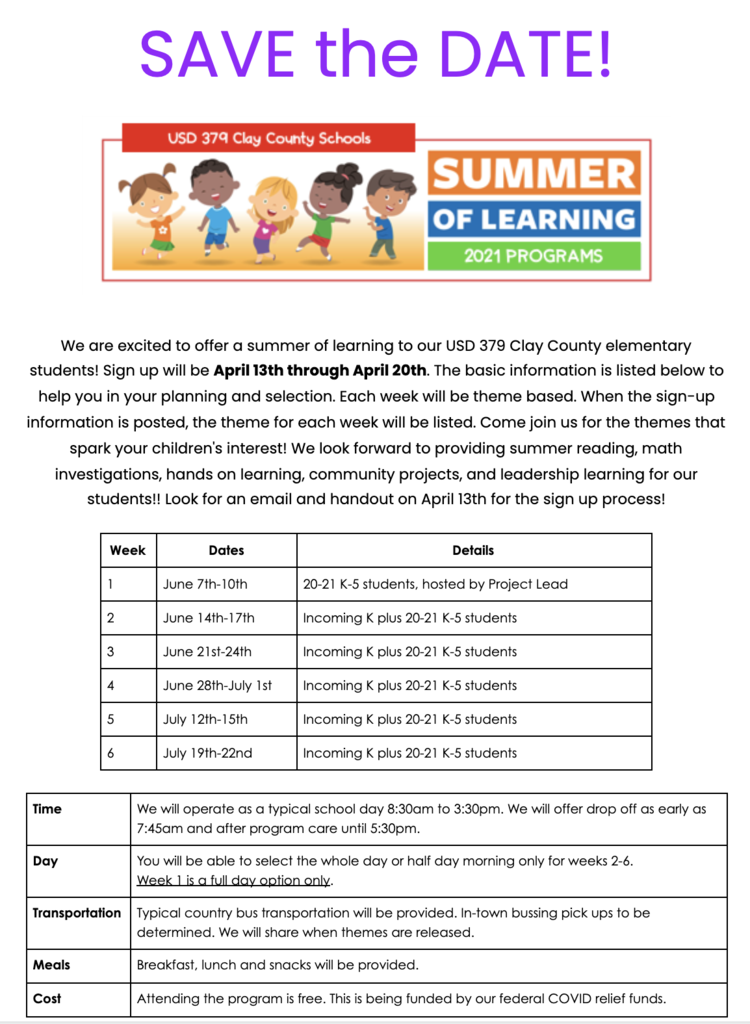 Do you have a child who will be 3 or 4 years old by August 31, 2021? Are you interested in FREE preschool options at Lincoln? If so, we invite you to bring your child to our Feb. 5 Child Check screenings. More information is in the attachment.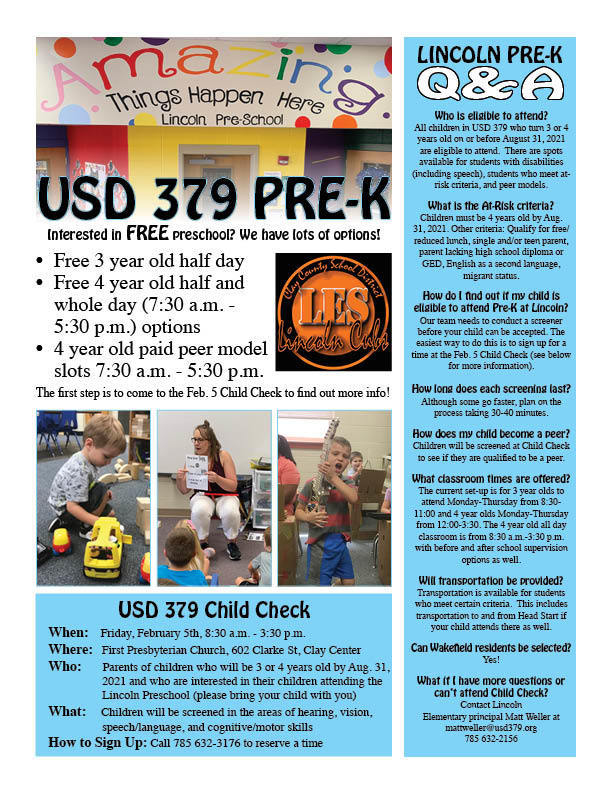 The Community Marathon Challenge is up and running! All money raised is going to an update to our east playground area. Go here to sign up:
https://docs.google.com/forms/d/1rGb77qCfo-3XpXR5Cbv9rL1T0GqYZxBKRJXwP9lgiOE/viewform?gxids=7628&edit_requested=true
Q1: Can I join if I do not live in Clay Center? A1: Yes, absolutely! Q2: Can I join if I am a USD379 student or employee in another school? A2: Yes, you will be part of the community! Q3: How do I record my miles? A3: You can record your miles on the google doc that will be shared with you after you sign up. Q4: When do I report miles? A4: Miles should be reported every Wednesday by noon. Q5: Can I use my activity tracker steps? A5: No, this has to be a dedicated walk or run. Q6: What days are miles tracked and how long is the program? A6: The Marathon Challenge begins October 1, 2020 and will run as long as the weather holds.

Everyone is invited to our ABC Boot Camp parade tomorrow on the courthouse square! #lincoln379 #usd379


Please read the attached document giving information on the Thursday, July 30 Kindergarten Roundup at Lincoln Elementary!  If you can't attend that evening, please call the office on Friday, July 31 for updates.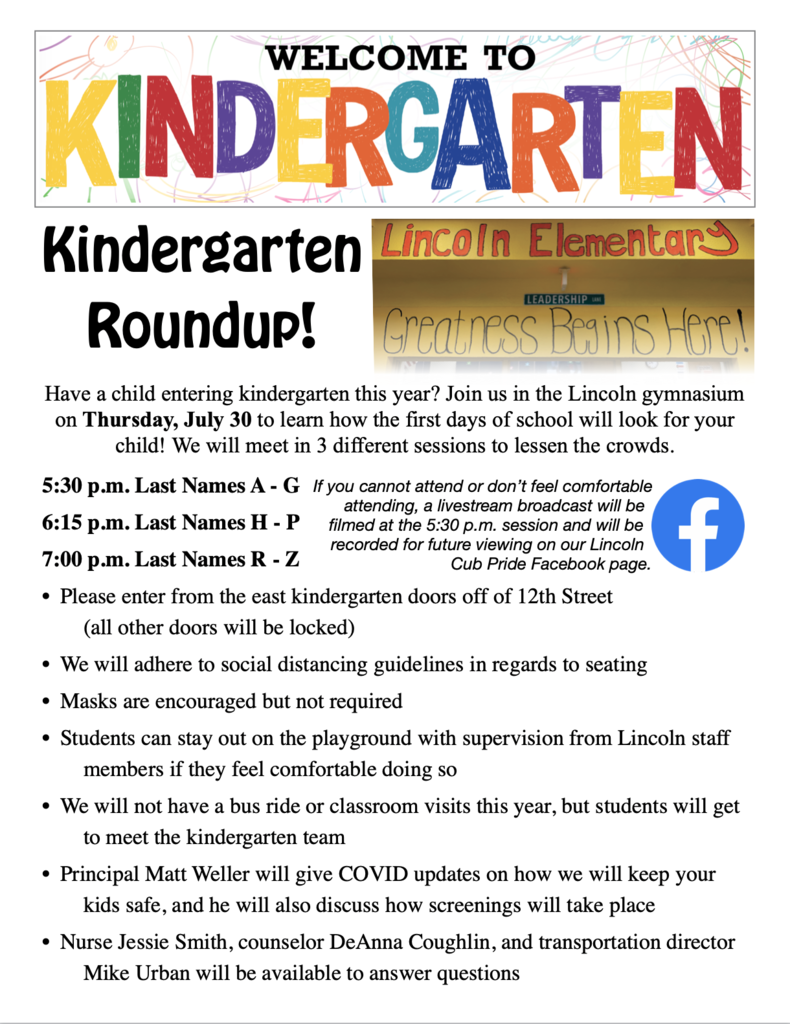 Please see the attached flyer about the new Kindergarten Roundup date on July 30. We hope to see you there! #lincoln379 #usd379


Lincoln and Garfield Parents, Forget to pick up your yearbooks, art portfolios, and other items last Thursday? There's still time! Come by anytime between 8 and noon this week and ring the front door. We will come to you! #usd379

If you weren't able to check in your end-of-the-year supplies yesterday, there's still time! Please come to Garfield this morning from 8 a.m. to noon. ALL technology must be returned.

Because of the threat of rain, Thursday's check in at Clay Center has been moved to the Bus Barn, which is located behind Lincoln Elementary at 1002 Clay Street. Please enter on the west side of Clay Street and not from the north. Wakefield's check in will remain the same.


This #usd379 Tech Team has been rocking it distributing devices and answering questions over the past four days! If you have a question, please email
techhelp@usd379.org
and someone from this team will be in touch. We are all in it together!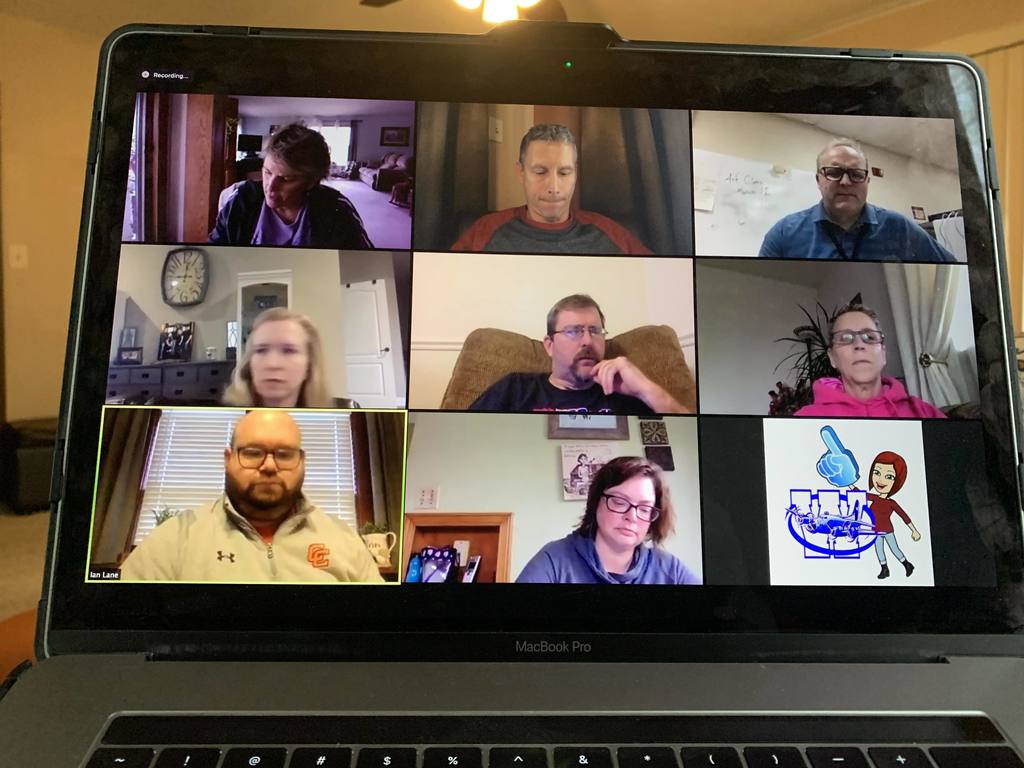 Lincoln parents: The spring photos you received in your child's bag of supplies are being provided FREE from Rolland Studios. You do not need to send back money for them. One perk from the craziness! #lincoln #usd379

Didn't get your laptop or iPad picked up yesterday? Decided your child needed a device after seeing the plan? Another pick-up date has been set at Garfield on Monday, March 30 from 1-4 p.m. Please email
techhelp@usd379.org
and include your name and student(s) names and grades.


For those of you who were scheduled to pick up iPads or laptops today and didn't do it, you have another chance! We will be checking out devices tomorrow from 1-6 pm at either Garfield or Wakefield. And for those of you who were told to come Friday, we will see you there! #usd379

If you indicated on the survey that you needed a laptop or iPad for your child to being the continuous learning plan on Monday, please check your e-mail for a message on when and where to pick up! #usd379

#lincoln379 Pre-K parents: Please mark your calendars for our March 9th Parent Night. We would love to see everyone there! #usd379